It seems like Pakistani media on the whole is not only immature but also cheap.It is evident how Pakistan media adores a hypocrite and conjurer like so-called religious scholar by promoting him in Ramadan through religious programs and commercial which were being broadcast on almost all major TV channels.
Here is the leaked video of Dr. Amir Liaqat,which portrays his real face who poses to be a religious scholar.
Perhaps Pakistani media only runs after their program ratings and they damn care about what the actual matter is.The indecent and vulgar language that this cheap and fake so-called religious scholar has used in these video clips cannot be broadcast on any decent news channel of Pakistan.
Most of the learned and sensible religious scholars of Pakistan are against Dr. Amir Liaqaut Hussain and likes of him which do hypocrisy and cheap acts in the name of Islam just to sell these programs in the name of Islam to raise the ratings of those news channels which host and broadcast such prgrams.Also most of the religious scholars do not recognize Dr.Amir Liaquat Hussain as a religious scholar.
Here are views of Tallat Hussain,a renowned Pakistani Journalist, about the programs being hosted by so-called religious scholars like Dr. Amir Liaqauat Hussain during Ramzan in the name of Islam,that he has expressed in his Urdu column given below:
These programs actually serve no good either to Islam or to Muslims expect ridiculing the sacred month of Ramadan.Here is another Urdu article published in daily ummat by Dr. Ziauddin.
If such a shameless person can a religious scholar for Pakistani media then Pakistani media itself one the whole has very cheap standards of morality and ethics.
In other words Pakistani media in general and those TV channels in particular which are broadcasting the religious programs by posing Dr. Amir Liaqat as religious scholar are very cheap and can fall to any level of shamelessness and immorality just for the sake of money and popularity of their channels.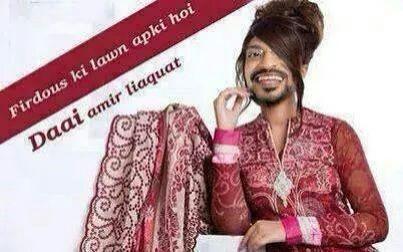 I think Pakistani media should not promote people like Dr. Aamir Liaquat as religious scholars and Pakistani Media should behave sensibly and responsibly in such matters.